When it comes to home improvements, particularly in the realms of windows, doors, and conservatories, quality is paramount. Accreditations serve as a hallmark of excellence, assuring customers that they are investing in products and services that meet stringent industry standards. At Ace Double Glazing, we take pride in our various accreditations, which stand as a testament to our commitment to quality.
The Importance of Accreditations
Accreditations aren't just fancy badges; they are a guarantee of quality, safety, and reliability. They signify that a business has undergone rigorous vetting processes and regular audits to ensure compliance with industry standards. In a sector where safety and efficiency are crucial, accreditations offer an extra layer of assurance to customers.
Our Accredited Partnerships
FENSA
We are proud to be FENSA accredited, a scheme developed by the Glass and Glazing Federation in line with new government building regulations known as "Document L." This accreditation ensures that our windows, doors, and conservatories meet the UK's minimum standards for energy efficiency. When you choose us for your project, you'll receive a certificate confirming that your new installation complies with these regulations.
Checkatrade
As a trusted member of Checkatrade, we offer reliable and quality service to all our customers. Our membership ensures that we have been thoroughly vetted and that we consistently deliver excellent results.
BSI Standards
Our products undergo regular testing by BSI British Standards and meet the requirements for various accreditations, including BS 7412 and BS7412 PAS24 for windows and doors. These standards ensure that our products offer optimal performance, safety, and weather resistance.
Buy With Confidence
We are also an approved member of the Plymouth County Council Buy with Confidence scheme. This partnership assures you that you are in safe hands when you choose Ace Double Glazing.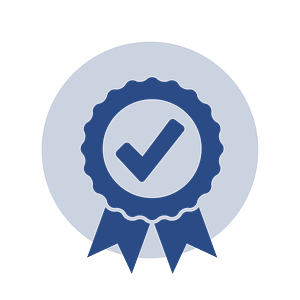 Ensuring Quality Through Accreditations
Our accreditations are more than just symbols; they are a commitment to quality. From sourcing our products from industry-leading manufacturers to ensuring maximum energy efficiency, we go above and beyond to meet and exceed standards. Our partnerships enable us to offer an extensive range of styles crafted using PVCu, ensuring optimal performance and energy efficiency.
What Our Accreditations Mean for You
Choosing a service with multiple accreditations means you're investing in quality, safety, and reliability. Our accreditations directly benefit our clientele by providing assurance and a guarantee of service. When you invest in our high-quality products, you enhance the comfort and sustainability of your project while reducing energy costs.
Maintaining Standards: Our Continuous Effort
We don't just earn our accreditations and call it a day. Maintaining these prestigious recognitions requires continuous effort and a commitment to excellence. As specialists in the field, we are always up-to-date with the latest industry standards and technologies to ensure that we continue to offer the best to our customers.
---
Get a Free Quote Today!
Ready to invest in quality? Get a free quote on one of our excellent windows or doors today. Contact us to find out more.