Plymouth, with its mild climate and scenic beauty, offers the perfect backdrop for a home extension that adds both value and aesthetic appeal. If you're a homeowner, interior designer, or part of a building company, you'll find that adding a conservatory to a Plymouth home is not just an investment, but a lifestyle upgrade.
Why Plymouth is Perfect for Conservatories
Plymouth enjoys a climate that is moderated by the warm currents of the nearby sea, making it an ideal location for a conservatory. The temperatures here remain pleasant until late autumn, providing an extended season to enjoy your conservatory. While Plymouth does see its share of drizzle, it's rarely plagued by heavy rain, making conservatories a practical and enjoyable addition to any home. Imagine sipping your morning tea while watching the sunrise, or hosting a cosy dinner party under a starlit sky, all from the comfort of your conservatory.
The Styles We Offer
At our company, we believe that every home is a unique expression of its owners. That's why we offer a diverse range of conservatory styles to suit varied architectural designs and personal tastes. Whether you prefer the timeless elegance of classic roofs or the modern sophistication of UltraSky, LivinRoof, and LivinRoom, we have something for everyone.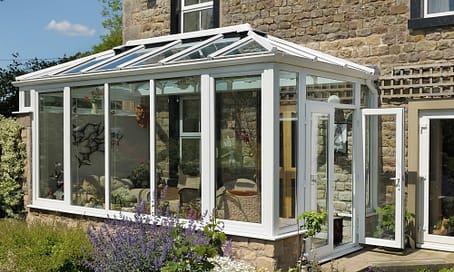 Aesthetic and Practical Advantages
Classic Roofs: These are perfect for those who own traditional homes and wish to maintain that timeless aesthetic. The classic roof design complements the existing architecture while providing a functional space that can be used year-round.
UltraSky: For the modern homeowner who loves natural light, the UltraSky design is a dream come true. Its innovative roof allows a flood of sunlight during the day and offers a spectacular view of the night sky.
LivinRoof: This design offers the best of both worlds by combining solid and glazed roofing. You can enjoy the sunlight while having the option to retreat to a shaded area, making it a versatile choice.
LivinRoom: If you're looking for a space that offers the comfort of a room with the benefits of a conservatory, the LivinRoom is your go-to option. It's perfect for a home office, a playroom for the kids, or even a cosy reading nook.
Why Choose Us?
10-Year Guarantee: We offer a 10-year guarantee on all our products, assuring you of their durability and quality.
FENSA Approved: Our status as a FENSA approved company means that we adhere to all industry regulations and standards, ensuring that you receive a product that meets all safety and quality guidelines.
No Commission-Based Sales: Our staff are directly employed by us, ensuring unbiased advice tailored to your needs.
What Our Customers Say
Don't just take our word for it; listen to what our satisfied customers have to say. Alison Midwinter, one of our valued clients, praised our service saying, "Excellent Service – really pleased with the quality. Staff helpful and efficient."
Get a Free Quote Today!
If you're in Plymouth and considering a home extension, a conservatory is not just an addition; it's a lifestyle upgrade. It's a space where memories are made, a sanctuary where you can retreat to enjoy nature's beauty, and a functional area that adds tangible value to your property.
Ready to transform your Plymouth home into a haven of comfort and style? Click here to get a free quote from our website. Or find us to see more of what we have to offer – your dream conservatory is just a few clicks away.