If you are looking into getting a front door, then let us explain why a composite front door is a worthwhile investment. Composite doors offer a range of benefits and are a popular choice among homeowners.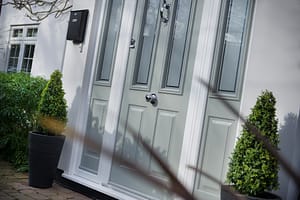 They are made of a blend of materials, including timber, glass-reinforced plastic (GRP), and uPVC; as such, one of the most significant advantages of composite doors is their durability and resistance to weather and wear. Unlike wooden doors that can warp, crack or rot over time, composite doors are designed to withstand harsh weather conditions, such as rain, wind, and prolonged sunlight – all of this, without losing their structural integrity or aesthetic appeal. Consequently, they require little maintenance and can last for many years without needing to be replaced and so are well worth the money you invest into such a purchase.
Similarly, due to the materials these doors are made from, another benefit of composite doors is their energy efficiency. The materials used in composite doors are designed to prevent heat from escaping your home or entering your home on those blistering summer days. Such qualities can help you save on your energy bills and reduce your carbon footprint. Such factors can also make a significant difference to your comfort level and expenses.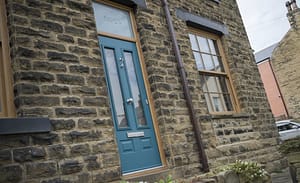 Additionally, composite doors offer a high level of security. They are typically fitted with multi-point locking systems and strong hinges that make them difficult to break into. This gives you the reassurance of knowing that your home and valuables are well-protected against intruders.
If you do choose a composite door, even though you may not be looking to sell your home, it is worth noting that upgrading to a composite door can add value to your property. Our composite doors offer an attractive and modern look – coming in a range of colours and looks – that can enhance your home's curb appeal and make it more appealing to potential buyers, as well as making you feel proud of your home each time you walk through that door!
If you're interested in upgrading to a composite door, at Ace Double Glazing in Plymouth, we are currently offering a fantastic promotion. For the entire month of April, we're giving away a free 'Ring Door Bell' with every new front door purchase. The 'Ring Door Bell' is a smart and convenient device that allows you to see and speak to anyone at your door from your smartphone, tablet, or computer, even when you're not at home. This is a great way to enhance the security and convenience of your home, so take advantage of this time-limited, incredible offer.
Contact us to discuss your upgrade needs and desires today or use our online door designer!