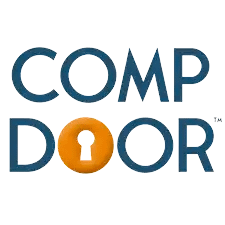 We're excited to unveil our CompDoor collaboration, resulting in a remarkable collection of composite doors that redefine customisation. With nearly 200,000 unique combinations available, the possibilities become virtually limitless when you factor in the finer details. From the colour of the knockers to the type of escutcheons and even the opacity of the backing glass, every aspect can be tailored for your preferences. Over 250 colour combinations alone, your home's entrance will stand out, providing a creative fluency that reflects your personal style.
Composite doors have charged through the market, offering a harmonious blend of elements that seamlessly combine functionality and aesthetics. Rest assured, these doors are engineered to excel without compromising quality in any aspect. Your door will not only brave the elements but will do so with elegance. CompDoor brings an array of features to the table, and while they do share the foundational 48mm timber core with other providers, their supremacy shines through their innovative security systems and insulating technology.
How is it better than the rest?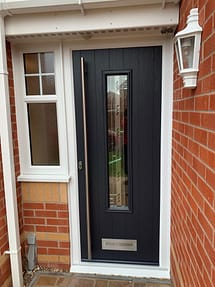 Imagine a U-value of 1.4 W/m²K – a fancy term meaning only a mere 1.4 watts transferred per square meter for each degree of temperature difference between your interior and the great outdoors. This translates to cosier winters, cooler summers, and a significant reduction in energy costs. It's not just about comfort; it's about adding real value to your home.
Safety is paramount, and CompDoor takes it to heart. Their partnership with security experts has yielded a cutting-edge multi-deadbolt auto-fire lock that springs into action the moment your door closes. Your peace of mind is of most importance, knowing that your space is secure and fortified. And regarding the locks themselves – the CompDoors feature active snap protection, where an innovative pin within the barrel activates against unwanted intrusion and acts as a barrier, protecting the integrity of your sanctuary before any attack has even begun.
Embrace the future with doors that embrace your individuality. Our partnership with CompDoor promises not only aesthetic grandeur but a harmonious fusion of security, insulation, and style. Your entrance won't just be a door; it'll be an eloquent precursor to the beauty within your home. Elevate your living space, one customised door at a time.
For any further information on our CompDoor collaboration or to see what new is brought to the table, please download our brochure here, or contact us.